We Love Food, and We Love What We Do
Our Mission
Pagosa Baking Company's mission is to create and share hand crafted baked goods, nourishing meals and celebratory fare utilizing locally sourced organic ingredients as much as possible; provide personal proactive and responsive customer service; nurture strong beneficial relationships with and among our staff, customers, vendors, business partners, and the community at large; cultivate a growing dynamic business that functions profitably, contributing to a vibrant economic climate in our community.
About Kathy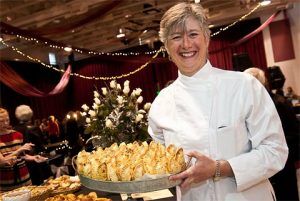 Kathy Keyes, Executive Chef and Owner, baked her first cake at the age of 5 and has not stopped since. She graduated from the State University of New York at Buffalo with a degree in nutrition and food science, and worked in clinical nutrition for 10 years. Kathy's passion for fine food led her to L'Academie de Cuisine in Bethesda, Maryland, where she graduated from the professional pastry program in 1992. While a student at L'Academie, Kathy received mentoring from Les Dames des Ecoffier, an organization of women chefs and food professionals. Kathy has worked as a pastry chef at the Morrison Clark Inn, and Sweet Surrender Bakery and as bread baker at Marvelous Market, all in Washington, D.C. She honed her high altitude skills at The Peaks at Telluride and Isabel's in Pagosa Springs. Kathy's passion for bread led her to open Pagosa Baking Company in 2001. The artisan breads and fine pastries at Pagosa Baking Company have earned a dedicated local following, and a regional reputation. She is proud to be celebrating 15 years of Great Food and Great Service at Pagosa Baking Company. Kathy is past president of the Pagosa Springs Area Chamber of Commerce, and is a founding member of the Geothermal Greenhouse Partnership. Kathy is active in a volunteer team working to expand the use of geothermal in Pagosa Springs.
About Kirsten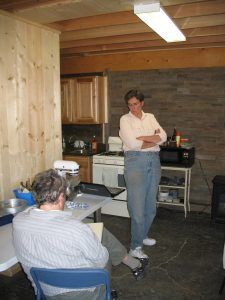 Growing up in a family of eight children, Kirsten learned at an early age the value of teamwork and organization. She applied those lessons at the U.S. Naval Academy in Annapolis, Maryland. After her active duty service, Kirsten began work at Fannie Mae in computer technology. Kirsten earned her MBA at George Washington University in Washington, D.C. She guides the financial and business side of the business. Kirsten takes great pride in Pagosa Baking Company's offerings of the finest coffee and espresso drinks found anywhere. With a commitment to local sourcing and sustainability, Kirsten chose Durango's Desert Sun Coffees. Kirsten was the shop's first barista and continues to improve her skills. Kirsten is a long time board member of Archuleta County Housing Authority and is a volunteer driver with the American Cancer Society. She is active in a volunteer team working to expand the use of geothermal in Pagosa Springs.
History of Pagosa Baking Company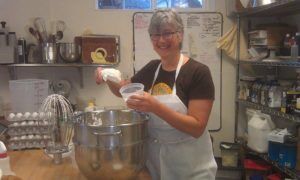 Pagosa Baking Company started out of the back of our car. In 1999, Kathy started making her European style sourdough breads at home for friends, and over the months was invited to sell her products in local retail stores. We converted part of our garage into a commercial kitchen in December 2000, with the intention of a wholesale bread business. With encouragement from our future down town neighbors, we purchased our building in June of 2001 and opened the retail shop in July of 2001. Production continued in our garage kitchen till March of 2004, when we completed an addition to accommodate an onsite kitchen and apartment. This afforded us the opportunity to expand our offerings to include breakfast burritos, soups, and sandwiches. We now hold cooking, baking and decorating classes in the kitchen, and have room to process local produce to use in our salads and fruit pies.
About Our Building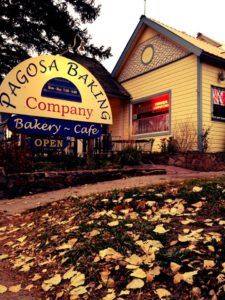 Built in 1906 as a two-room cabin, the only recognizable feature of the original building is the fireplace. 238 Pagosa Street has served as a private residence, boot and saddle shop, gun shop and antique shop. In 1997, the former owner remodeled to unify the look of the building into the current style. In 2001 we bought the building and in 2004 Pagosa Baking Company doubled the foot print, adding a commercial kitchen and upstairs apartment. 2011 improvements include opening up interior space to improve traffic flow, and adding a front patio to accommodate outdoor dining. We're connected to the geothermal district heating system, which heats the building, and melts snow from the east sidewalk.