We support Relay for Life, 9 Health Fair, The Humane Society, Four Corners Folk Festival, Archuleta County Fair, Loaves and Fishes and many other community organizations. We are an original vendor in the Pagosa Springs Farmer's Market, and you'll find their board meeting at the bakery. We're a meeting place for community groups, a familiar stop for regional travelers, a favorite spot for 2nd home owners and annual vacationers. And our organic kitchen waste feeds kitchen manager Twila Brown's pigs, and the town community garden compost.
We proudly sponsor the Pagosa Springs Center for the Arts!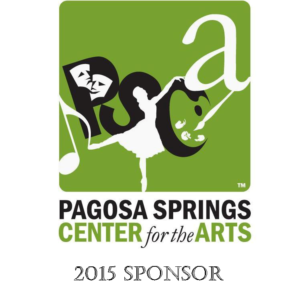 Friends of Pagosa Baking Company
At Pagosa Baking Company we make every effort to tap the incredible products and services found here in Pagosa Springs, Archuleta County and the great state of Colorado.
Local artists Donna Merchant Crooks and Karina Silver have created furnishings and wall coverings for us.

We carry hand made greeting cards by Dominique Skeehan (Kirsten's sister) and Peggy Bergon.

We are the original retailer for local favorite Enchanted Valley Farms pestos and spreads.

Our breads are made from Rocky Mountain Milling organic Colorado flours.

We serve Artemesia Botanicals chai, and retail a variety of their teas.

Local author Tess Challis sells her popular cook books here, and occasionally teaches cooking classes.

Rhubarb for our famous pies comes from local home gardens.

Summertime salads, herbs and vegetables are grown right up the road by local organic grower Elly Heitkamp.

LazEwe 2 Bar Ranch makes a variety of goat cheese you'll find in our refrigerated case.

Jill of Russia House has created wonderful reusable linen bread bags.

We retail Dessert Sun Coffee, Rocky Mountain Peanutbutter and Zuberfizz sodas, all of Durango.

Mancos Honey has become a very popular item.

Our freezer case holds meats and sausages from two local producers; Grass Roots Meats and Gosar Ranch Sausages