2017
Thanksgiving Orders
Traditional or unconventional, Pagosa Baking Company pies, desserts, appetizers, breads and rolls will complement your holiday table.
Order by Monday 11/20    970-264-9348
Pumpkin Pie –Traditional spiced pumpkin custard                                                                   $18.18
Bourbon Pecan Pie– Sweet and loaded with toasted pecans                                                   $20.85
Pear Cranberry Crumb Pie – Sweet & Tart with buttery vanilla crumb topping                $18.18
Mince Meat Pie– Traditional, double crust (Order early, limited quantity)                           $19.69
Apple OR Apple Cranberry Pie– Double crust, hand prepared Granny Smith apples      $18.18
Pumpkin Pistachio Roulade – pumpkin sponge cake filled with rum cream, an adult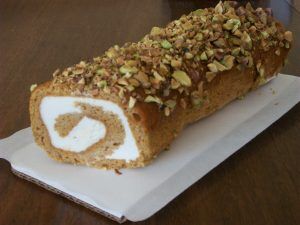 dessert                                                                                        ½ $16.50, whole $33
Pumpkin Caramel Custard 9" Tart – Non-traditional and luscious, layers of caramel custard and pumpkin custard in our rich tart crust                                                                                      $28.60
Pumpkin Bread (Gluten Free), for your guests with special requirements, or as a hostess gift.
serves 4                                                                                                                                                       $7.15
Brie in Brioche – make your celebration just a little more special!  Order by 11/16/2017.      Large serves 16-20 $33.00 or Small serves 5-7 – $13.50
Sugared Shortbread Pumpkins – so colorful and festive, made with European style butter                                                                                                                                               $11.50/dozen
Rosemary dinner rolls – our popular Rosemary bread, perfect serving size for your holiday table                                                                                                                                                   $7.16/dozen
Ciabatta dinner rolls (2 oz) – perfect for sopping up gravy, or to cradle leftovers in a sandwich                                                                                                                                          $6.05/dozen
Bread: Local Loaf, Rosemary, Whole Grain Fruit and Nut, Harvest Pumpkin (2# only) – seasonal favorites, all available Wednesday and Thanksgiving Day       1# loaf $4.40, 2# loaf $6.82
Croutons for Stuffing – made with our housemade sourdough breads, of course          $3.43 bag
And order any of our regular items!