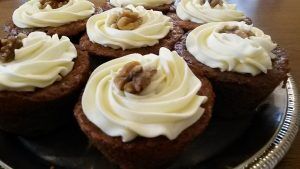 First recipe, our Carrot Cake Muffins. One of the most popular items in the pastry case, this same recipe is also one of our most requested wedding cakes. In this basic spice cake recipe, shredded carrots lend moisture and tenderness as in zucchini bread or apple sauce cake. We pipe a wide swirl of our cream cheese icing on the top – not too much – you don't want to overwhelm the flavor of the carrot cake.
Makes 12 large muffins or one 9″ cake.  Adjusted for 7000 feet.
Ingredients
10

ounces

all purpose flour

3/4

teaspoon

baking powder

3/4

teaspoon

baking soda

2

teaspoons

ground cinnamon

1

teaspoon

kosher salt

10

fluid ounces

canola oil

11 1/2

ounces

granulated sugar

5

eggs

11

ounces

shredded fresh carrots

3 1/2

ounces

chopped walnuts

4 1/2

ounces

raisins
Instructions
Preheat the oven to 325 degrees. Coat a large 12 count muffin plaque with pan spray. Or, coat a 9" cake pan with pan spray, place a round of parchment paper in the bottom of the pan. Combine the flour, cinnamon, baking soda and powder, and salt in a medium bowl with a wisk. In a mixing bowl, blend the oil, sugar, and eggs well. Add the dry ingredients to the wet ingredients. Mix to thoroughly combine the dry ingredients into the wet, but be sure to not over mix. Add the shredded carrots, raisins and walnuts, being sure to not over mix. Pour the batter into the prepared pan/s (5 oz batter per muffin cup). Bake at 325 degrees. The muffins will take 30 to 35 minutes. The cake will take 45 to 55 minutes. Insert a small knife or toothpick into the center of a muffin or the cake - you will see moist crumbs, not sticky batter, when the muffins or cake is done. Cool for 15 minutes, them remove the muffins or cake from the pan/s. Completely cool before icing or storing. Carrot cake is delicious on it's own, with a drizzle of honey, some butter, whipped cream or cream cheese icing. You could also make this in a pretty fluted pan to serve like a simple pound cake.